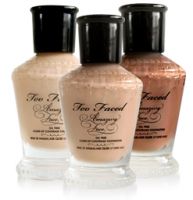 Name: Amazing Face
Manufacturer: Too Faced
Found At: www.sephora.com, www.toofaced.com
Price: $36.00
"Our oil-free, skin smoothing liquid foundation provides the illusion of airbrushed skin in seconds. Complexion concerns disappear as the weightless, silky formula glides on skin delivering undetectable coverage, with luxurious skincare benefits. You will always be ready for your close up!"
Why its so Great!: Have you ever wished for a foundation that gave you that flawless skin without having a "caked face"?!?! Well this is the answer to your prayers! When they named the product "Amazing Face" they meant it! This product is awesome because it covers all of those imperfections but without looking super heavy. I love this foundation to wear everyday.
Note: Although this foundation gives a natural application with great coverage, if you would like the foundation to look even more natural mix with your favorite moisturizer in your hands and then apply on the skin together.